Smile! You're in good hands!
WELCOME to Buchalter Dental Care. We take great satisfaction in helping you and your family maintain optimal oral health. Our practice is devoted to comprehensive and preventive patient care.

We provide complete dental care for your entire family. We stress prevention but when needed we will help you obtain the best treatment to restore your dental health and provide you with the smile you always wanted. Look to us for the latest in Cosmetic Dentistry, including veneers, bleaching and invisible braces like Invisalign® and ClearCorrect®.

We can replace missing or damaged teeth with crowns, bridges and/or dental implants.

We love children of all ages and strive to make their early dental experiences fun!

We use ultra low radiation digital x-rays.

Nitrous Oxide (laughing gas) is available for those who need it.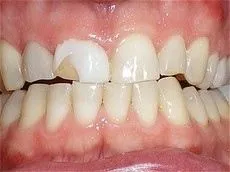 Less Than One Hour Later
CLICK HERE TO VIEW OTHER BEFORE AND AFTER PICS
We are experts in Geriatric Dentistry (dental care for seniors). Dr. Buchalter lectures extensively on Alzheimer's Disease and all phases of dental care for the elderly to other dentists at various local dental societies and national dental conventions.

Dr. Buchalter participates with many dental insurance companies including Aetna, Metlife, Cigna, Delta Dental, Blue Cross, Guardian, United Health Care, Connection Dental, Assurant, Fortis, DentaMax and ILA.

Throughout our website, you will find an abundance of information about our practice and the procedures we provide, which include: Dental Implants, invisible braces like Invisalign®, Porcelain and bonded Veneers, Tooth Whitening Crowns, Bridges and more.

Please explore and learn as much about dentistry and our practice as you desire. We believe our patients should have as much knowledge as possible in order to make informed decisions regarding their oral health and treatment options. Please sign up for our no obligation, fact filled monthly newsletter by joining the email list. The newsletter is packed with information you can use.
Thank you for visiting Buchalter Dental Care
388 Avenue X Suite 1J
Gravesend, Brooklyn, NY, 11223
(718) 336-0450
[email protected]